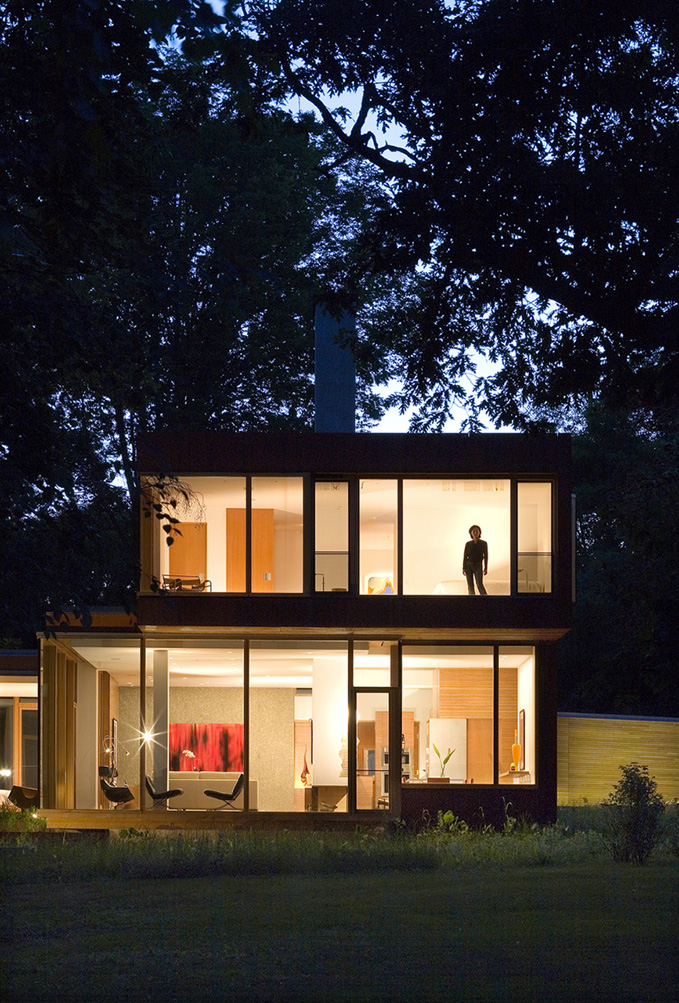 LEVY house
FOX POINT, WI
This post-tensioned concrete and steel-clad residence sits atop one of the great, deep ravines feeding water into Lake Michigan. It offers an example of integration of structure and building skin. The steel cladding components were developed by LA DALLMAN in collaboration with regional metal fabricators. Noted for its exemplary detailing and material innovations, the project will featured in forthcoming publications in Spain and China, in addition to Merit Award recognition by the American Institute of Architects Wisconsin.

The sculptural characteristics of land form -- the conditional, restless realm of geology and fluvial systems -- provide inspiration for the design. The house builds up earthen density with quiet, stoic volumes of weathering steel and cement stucco facing the neighbors. This restrained face shields the interior from the public, cradles the entry sequence, and helps anchor the house to the site. It serves as an embankment yielding to a series of erosions and subsequent sedimentations along the private, ravine-side of the house. Primary living spaces are carved out of the deep strata of the first floor mass and enclosed in glass, creating wide views into the landscape. These spaces are simultaneously embedded within and thrusting free of the eroded mass of the house. The house's interior is engaged with the surrounding landscape: erosions pulling the landscape into the interior, sedimentations thrusting the interior into the landscape.

The building offers a rich set of intentional juxtapositions: the second floor slab of post-tensioned concrete allows for the progressively cantilevered massing, a steel box hovering above a long-span living space, and a delicate, 42' length of wrapping window wall; the reserved front facade gives way to the unexpected, extroverted, and expansive rear façade; the sharpness of the form contrasts with the velvet texture of the weathering steel; the striking composition of the mass blends against the backdrop of the forest; the glass, prismatic volumes sculpt shafts of natural light deep into the interior; the warm copper stain softens the toughness of the concrete. Woven together, these opposing qualities produce a project that celebrates and roots itself in the site.